Tuesday, January 4, 2005
右翼 + HIPHOP + CONCEPT CAR = Recto Flossin?!?
A strange confluence of three different Japanese subcultures has just occured, only you don't know about it yet! Don't worry, you aren't alone. So, there you are. Just finished up doing whatever it is you do, which has got you feeling a little winded. Punch out, hop a train, and now you are back home once again, and now you are kicking back in your flat on a Sunday afternoon in Tokyo trying to unwind. After all, the 火燵 is warm and inviting, isn't it...
Although
it ain't a 40 oz.
, you've got a slight buzz from Kirin Namakuro that you've been sipping. Hey bro, watch the 二段腹, OK? That's when the sonic barrage starts up...
Yep. I'm talking about the Right Wing speaker cars, that most Japanese manifestation of agitprop. Right Wing speaker cars - they used to look exactly like the above pic in the decades following WWII - are, if you aren't in the know, basically these cars that tool slowly around central Tokyo blaring old Right Wing anthems and pep songs at full 'shatter-the-walls-of-Jericho' blast as a BACKGROUND din, and then on TOP of that, there is some insane guy (he probably read too much Mishima) wearing a sword and blabbing on about 尊王攘夷 and
'kill the white people
' (actually, I think these guys are pretty cool, but...). Hey, whatever floats your boat, right?
Right! But the only problem is that you start to get pissed off about this anachronistic taste in tunes and you can't get your beauty sleep. Cuz these guys are so hoary that think that
ゴンドラの唄
is like a J-Pop top 10 hit or something! I mean, come on. Ancient and crusty musical taste to say the least...Stay with me, here's where things get really interesting!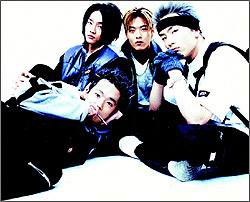 If you have ever been in this situation, it looks like you aren't alone, but the interesting thing is, someone out there, for better or worse, is doing something very radical about it! A bunch of twentysomething フリータ guys in Yokohama (actually not too far from where
Nao
lives) who have their own hip-hop group (called 南風) have taken control of the situation. Not only have they recently penned a batch of new HIPHOP versions of a lot of Right Wing anthems, they are also in the process of releasing a new CD with these songs on an underground label in Kanagawa. I was at one of their shows the other day Ikebukuro, and I managed to get a CD from them. I have heard a few tracks, and actually they rock in a kind of
RipSlyme
kind of way. And as if that weren't enough...
This one is too good...it actually looks like the guys in 南風 have got some serious backing from somewhere (it couldn't be the やくざ, could it?), because it looks like there is a deal in the works to hook them up with
this car
so that they can bring their message to the people this Spring, when the cherry blossoms are in full bloom. What is this car? (The following was snagged off of Jean '2legit' Sno's webpage.)
Toyota Motor Corp on Tuesday unveiled the Hiace Sound Satellite, a commercial wagon that can transform itself into a multifunctional mobile studio for use at live outdoor events. Along with its two large roof-mounted foldaway plasma display screens, the futuristic vehicle is also fitted with audio gear and indoor lighting. The double doors on the left-hand side of the vehicle open to reveal a fan-shaped "revolving open studio" equipped with a counter, audio gear and other fixtures to the left, and a fan-shaped "revolving merchandise showcase" to the right. (Kyodo News)
That means next time you are relaxin' and maxin' at your place, and you hear some deep bass boomin', you'd better listen carefully, and take a second look. It might be the new-wave, Right Wing HIPHOP All Stars comin' at you straight out of the slums of 世田谷区!!! I'll post more info in the 'van tour' dates when I get them. In the meantime, spread the word!